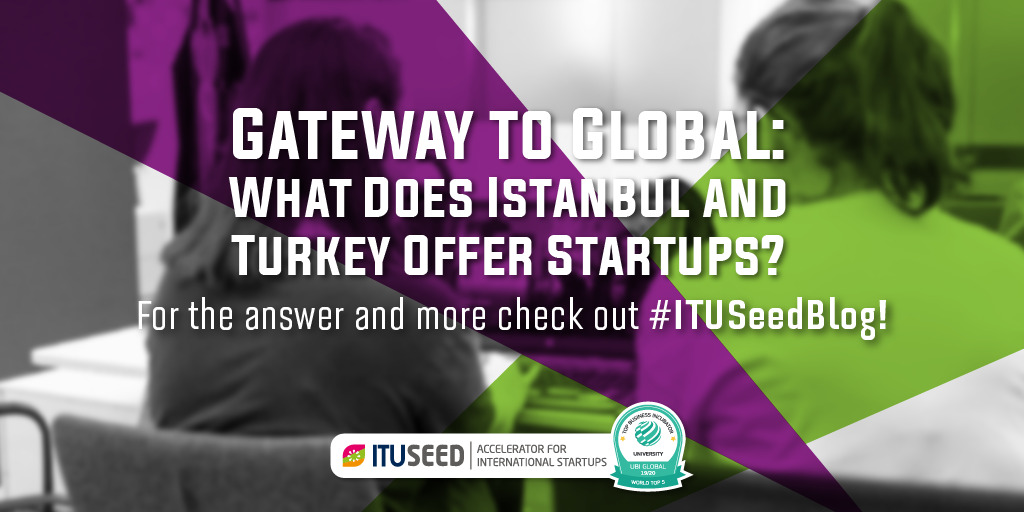 15 Apr

Gateway to Global: What Does Turkey and Istanbul Offer to Startups?

6

minutes read

Entrepreneurship is gradually increasing in importance and impact as technology and digitalization become an indispensable part of life. While many entrepreneurs change the world with their different perspectives, solutions to problems, the value they add to humanity and their contribution to the future; they also participate in different ecosystems to optimize their technology, products and services.

Rapidly growing and developing cities around the world and the ecosystems create form the heart of entrepreneurship. One of the biggest cities in world, Istanbul, is one of them! Istanbul offers a wide area not only for Turkish entrepreneurs, but also for all entrepreneurs with its location connecting Asia and Europe, its workforce, expanding market, human quality, promising new opportunities, and investment opportunities. It has also increased its influence in the international arena with an increase in the number of startups that emerge from Turkey and go on to have significant global success.

Apply Now

Well, if you are an entrepreneur living outside of Turkey and want to grow globally, what promises does Istanbul hold for you? What advantages will you have by being located in Istanbul, which has become an international entrepreneurship hub?
Growing and Developing Ecosystem
Turkey's entrepreneurship ecosystem is growing day by day and rapidly, especially with an increase in the number of newly established startups within the last 10 years and the success of Turkish entrepreneurs globally. Turkish startups Getir, Peak Games, Dream Games, Hepsiburada, Trendyol and Insider became unicorns, and especially the global success of Getir has proven Turkey's growing and developing ecosystem to the whole world.
Strong Entrepreneurship Community
The Istanbul hosts thousands of entrepreneurship-oriented events every year due to its location, sectoral power, ecosystem and being at the heart of the business world. With related seminars, conferences, hackathons, award ceremonies, training and investor meetings, there is a wide entrepreneurship network in the city, providing great networking opportunities for entrepreneurs. Likewise, steps taken by state institutions and private sector representatives in this field have contributed to not only supporting entrepreneurs to further advancing their work but also to making Istanbul a major entrepreneurship hub.
Unique and Strategic Location
Istanbul has an extremely strategic location, being a bridge connecting Asia and Europe, being at the center of the business and financial worlds, and being close to many major markets. This location offers entrepreneurs the opportunity to do business in the region's most important destination and interact closely with different countries and ecosystems of the world.
Large and Diverse Market
As a developing country with a population of approximately 85 million, Turkey is an extremely large, growing and diverse market with both a balanced young/old population as well as foreign citizens coming to the country from abroad. Istanbul, with its population of 18 million, among the largest metropolises in the world, is the city where the heart of the country's business, finance, economy, trade, education and culture-art beats! Thanks to this power, startups have the opportunity to access many different user profiles, examine consumer behavior, test their ideas and products, and learn about global market dynamics.
Current and Potential Workforce
Istanbul, one of the largest and fastest growing cities in the region, is at a critical point with its varying sectors and current business volume. In addition, the potential business opportunities arising from the investments made by giant brands and the work of public institutions in Turkey, which is among the 20 largest economies of the world, means an important opportunity for entrepreneurs to expand their startups, business partnerships, and customer pools.
Qualified Human Resources
The fact that Istanbul is the city where Turkey's young and educated population structure is most shaped makes it one of the best places to reach educated and talented human resources who are most impacted by the technology and innovation offered by the entrepreneurship world. Istanbul, where the world's leading universities and training centers are located, makes it easier for entrepreneurs to reach young and fresh minds, thus ensuring that they have a qualified team structure.
Investment Opportunities
Istanbul, a city where many local and global angel investors and VCs invest in promising companies, also stands out for its opportunities for entrepreneurs to access investment. In particular, the incentives offered by public institutions to foreign investors opens up a great deal of space for entrepreneurs. In 2021, 1 billion 552 million dollars were invested in 294 investment rounds in angel and VC stages in Turkey, with foreign investors participating in 44 of these investment rounds. With 18 news funds valued at 178 million dollars being established, the total funding value between 2017 and 2021 has reached 850 million dollars.
Easy and Straightforward Procedures
In Turkey, unlike many European countries, incorporation processes can be completed very quickly and easily. Istanbul, home to many public institutions, makes the process of establishing a new company, taking a new step in your company, and getting permission/approval for these steps go smoothly. This combined with comparatively lower costs, provides a great advantage to entrepreneurs.
Low Operating Costs and Expenses
Another important reason why Istanbul is one of the best locations for entrepreneurs is that operating costs and expenses are much lower compared to European countries. Entrepreneurs have the opportunity to cover many costs such as company establishment processes, office opening, rental expenses, and other expenses even with their limited budgets. Similarly, public institutions offer many discounts, incentives, supports and exemptions in this regard.
ITU Seed is Here!
As ITU Seed, we are located in the very heart of Istanbul, one of the most important metropolises of the world, and we aim to elevate startups outside of Turkey to the global level with the numerous supports and advantages we provide. If you are ready to grow your startup with ITU Seed and want to increase your strength on the way to going global, apply to ITU Seed now and join us!
Apply Now
You can visit our website for more details: https://ituseed.com/
You can read our article about the opportunities offered by ITU Seed: https://ituseed.com/bridge-to-global-growth-what-does-itu-seed-offer-to-startups/
You can get current information about our latest updates and content by following us on social media: